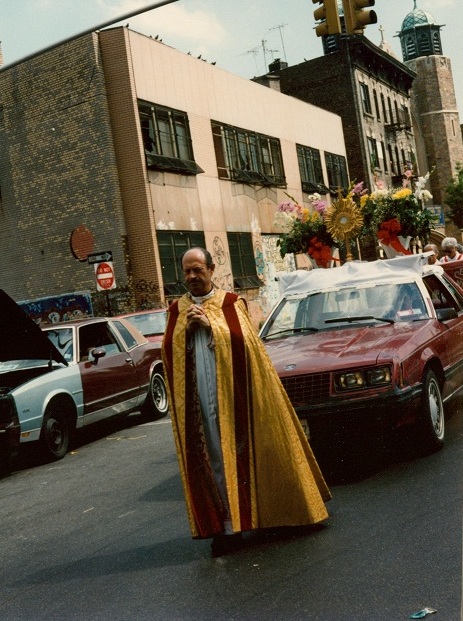 The postings on this website help to document Bishop Garmendia's life.  Friends of Bishop Francisco Garmendia maintain this website to honor his life.
Bishop Francisco Garmendia who once served in the South Bronx as New York's first Hispanic Bishop lived an exemplary life, a holy life of prayer and service: a model for all who wish to become saints.
We ask all who visit this site to join us in prayer that Bishop Francisco Garmendia will be considered as a candidate for sainthood in the Catholic Church.
Bishop Garmendia is remembered as one of the greatest promoters of Divine Mercy in the Archdiocese of New York.
The Hispanic Charismatic Center that Bishop Garmendia founded in 1978 continues to thrive under the loving care of Bishop Josu Iriondo, with weekend retreats that draw Catholics from all over the United States.
The Hopeline that Bishop Garmendia co-founded in 1990 after the tragic Happy Land Social Club fire continues to serve countless South Bronx families in need.
While newspaper headlines told readers that the Bronx was burning, Bishop Garmendia's many processions through the streets of the South Bronx with the Blessed Sacrament, Rosary Rallies at Crotona Park, and the Way of the Cross through Bronx neighborhoods processions on Good Fridays told a different story.
As Vicar of the South Bronx, Bishop Garmendia drew thousands of people closer to Christ.
His love for the Rosary was evident as he handed out hundreds of thousands of rosaries in the South Bronx.
Bishop Garmendia's daily 3-minutes message of hope that he shared with Hispanic radio listeners at WADO had a great impact on many lives.
We thank all who helped to preserve documents and videos about Bishop Garmendia's life – especially the Church of Saint Thomas Acquinas, and Fordham University's Department of Archives and Special Collections.  We are especially grateful to Ted Lipien for his technical assistance with this website.  We also thank Bronxnet for their assistance transferring video footage into digital format, and Felix Serrano from Digital Serrano for formatting the prayer card.  In loving memory, we are grateful for the work of Sister Helen Winters who took and preserved many outstanding photos shared on this website of Bishop Garmendia.